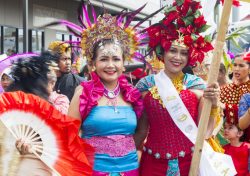 One of Pakington Street's iconic tenants will host a dinner to raise money for refugees in the Geelong region.
Diversitat announced in its latest newsletter that the Refugee Week Fundraising Dinner would be at Geelong College's dining hall, in Newtown, on 22 June.
"It will be an evening of amazing cuisine and personal stories of rising above extreme adversity," Diversitat said.
"Start planning your table now. Tickets are limited."
Diversitat has provided booking details on its website.
Operating primarily out of the former Geelong West Town Hall, Diversitat is the city's main provider of multicultural community services.
"Diversitat has a long and proud history of providing innovative and quality support programs to the changing needs of our culturally diverse community," says the not-for-profit organisation.
"Each year we help and welcome approximately 200 to 300 refugees from countries including Afghanistan, Congo, Iraq, Iran, Liberia, South Sudan, Sri Lanka (Tamil) and Karen and Karenni communities from Myanmar.
"Our drop-in case work service for asylum seekers is one such program providing information and referral as well as needs-based assistance for asylum seekers who are not eligible for other federally funded support."
Diversitat was established in 1976 as Geelong Migrant Resource Centre before adopting its current name in 2005.
Employing over 300 staff, the government-funded charity also runs Pako Festa, The Pulse community radio and television station, Wholefood Pantry and Kitchen, and Belmont Oppe Shop.
Refugee Week this year runs from 17 to 23 June.