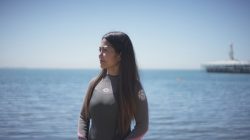 By Luke Voogt
Newtown theatre nurse Emmie Pongase overcame her fear of wiping out, and now she's riding waves on national TV.
"I love the ocean, it's a place that I feel at home," she said.
The 35-year-old single mum recently featured a state-wide campaign encouraging women to overcome embarrassment and get active, thanks to her surfing enthusiasm.
"It's so challenging for me!" she said.
"Even if I stand up for only a second I feel a real sense of accomplishment."
Emmie grew up in the Philippines mountain-biking, hiking and skim boarding at the beach.
But as she got older a fear of looking silly prevented her from learning to surf.
Emmie became a mum and immigrated to Brisbane to become a nurse, before moving to Newtown three years ago.
She decided to learn to surf after talking to her friends about it, but as a single mum struggled to find the time.
She was afraid her lack of skill could see her get injured in the surf.
"The first time we were going to do it I was going to wear a life jacket," she said.
"My friend says 'you can't do that you'll look silly!'''
After a few surfs at Torquay Surf Beach she realised she could wipe out without being embarrassed.
"People don't care – they're doing their own thing and don't really watch you," she said.
"While you're out there waiting for a wave you can just relax on the board…no-one talks to me, no one calls out 'Mummy!' or 'Emmie – do this, do that'…it's so peaceful out there!"
Emmie rides a wave in a television commercial for This Girl Can – Victoria which Vic Health modelled on a similar UK campaign.
According to Vic Health more than 40 per cent of women say embarrassment, intimidation or a perceived lack of skills prevents them from being active.
"I can relate to them," Emmie said.