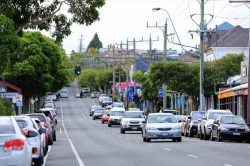 The new Pakington Street traders' association has provided a "starting point" for a crime-fighting alliance, according to Leading Senior Constable Andrew King.
"It allows the retailers to have communication with each other when they would otherwise work in isolation," he said.
The association recently secured a $10,000 State Government community safety grant for a 'no cash on premises' program.
"This is a start of a series of strategies," Leading Sen Const King said.
"All of the traders are absolutely wrapt in the support that Victoria Police and Geelong council have put in place for them."
Police implemented the program in Pakington Street following a spate of burglaries earlier this year, after trailing a similar program in Ocean Grove.
"The grant was an opportunity to introduce that strategy to the traders along the entire length of the street in the hope we would get similar result," Leading Sen Const King said.
"They don't currently have the issue in Pakington street that they had six months ago but that's not to say that issue won't come back."
The State Government recently came under fire for the grant's lack of funding for security cameras in the street.
Police Minister Lisa Neville later explained that the grant application did not request cameras.
But security cameras were "not a be all and end all" solution for Pakington Street, Leading Sen Const King explained.
"You can't just put cameras up in Pakington Street and say hallelujah it's covered," he said.
"And it would be no mean feat to put cameras along the entire length of Pakington Street."
Cameras had been effective in Geelong CBD, but Pakington Street had a vastly different structure, Leading Sen Const King said.
"Remember Geelong also has a nightlife – there's still some work to go until we decide whether it would be an effective tool in Pakington Street."
The new traders association would allow police to implement street-wide crime fighting strategies, Leading Sen Const King said.
Traders' after hours contact details would allow police to share recommendations to "target harden" business, rather than officers going "door to door", he said.