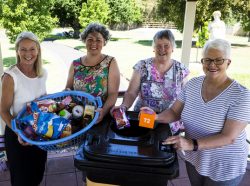 By Luke Voogt
Schools, businesses and community groups have combined in Geelong's west to bring Christmas cheer to the city's most needy in a first-time carols concert.
Carols in West Park, on 3 December, would be the first event of its type, according to Geelong West Neighbourhood House's Pam Virgona.
"It's certainly the first with the partners involved," she said.
The volunteer-run neighbourhood house joined with St John's Lutheran School and Hodges Real Estate for the event, to collect food for OneCare Geelong.
"It's got a lovely community feel," Pam said. "There are only a few blocks separating these different organisations."
The organisations spent six weeks planning the free event in the "jewel of the crown in Geelong West", and Pam was keen to get locals along.
"We don't want it to be Carols by the Bay or Carols by Candlelight," she said.
"We just want it to be grassroots – bring a rug, bring your picnic basket and most importantly bring the kids."
The carols had originally been set to go ahead on 26 November but storms forced organisers to postpone the event until 3 December.
"It was just too risky," Pam said. "I was sitting at the park in the car watching the lightning."
OneCare's Corrie Inei called on locals to bring non-perishable items to the event, to place under the organisation's Christmas tree at the West Park rotunda.
The items would go towards hampers for families and locals doing it tough this Christmas, she said.
"People will be receiving hampers all throughout the city.
"It's a wonderful event because it's working with different organisations within the Geelong West community."
The carols will feature performances by local harpist Peter Roberts, the St John's School Choir, The Acabellas, Rebecca and Eva Hay and OneCare's very own choir.
The choir were grateful to give back to the community that had helped them, and had been busy rehearsing, Corrie said.
"They have actually owned it," she said.
"We've been here for just over eight years and developed our own little community."
Hodges Real Estate helped organise decorations and promotional posters for the event.
Business manager Jules Gower hoped Carols in West Park would become an annual event.
"It was our way to give back to the community at Christmas by hosting something on the doorstep of Geelong West," she said.
Carols in West Park runs from 5 to 6.30pm on Sunday, 3 December.
For more information, visit www.gwnh.org.au and to donate to OneCare visit www.onecaregeelong.org.au.