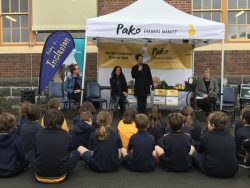 Farm fresh on pako
Geelong's newest Farmers' Market is about to open just a stone's throw away from busy Pakington Street.
From the paddock to your plate is the freshness guarantee of the Pako Farmers' Market which will operate on the second and fourth Saturday of each month at Ashby Primary School, Geelong West.
On offer will be the region's best pick of high quality, nutritious and ethically produced food including fish, lamb, beef, chicken, eggs, dairy, grains, vegetables, fruit, honey, nuts, oils, cheese, kimchi, and preserves.
And shoppers can be assured that every stall holder at the market will be the actual farmer or producer of the product, or is a direct employee of the farmer.
Fresh coffee and snacks will also be available and all the food on sale will be sustainable and supporting local farmers.
The very first market day is 14 October and will be open from 8am to 1pm.
Further 2017 dates are 28 October, 11 November, 25 November, 9 December, and 23 December.
The Pako Farmers' Market is a community market, managed by the Barwon Fair Food Network, a non-profit incorporated association. The market site has been provided by Ashby Primary School and all money raised goes to the school's food garden program and to other projects of the Barwon Fair Food Network.
Farmers' Markets across Victoria contribute $227 million to the Victorian economy and provide business opportunities for regional food producers, as well as building relationships between consumers and producers and encouraging a feeling of general community connectedness.
Geelong MP Christine Couzens said that local farmers were producing some of the best food in Victoria.
"We're proud to add another reason to experience the best that Geelong and our region has to offer," she says.