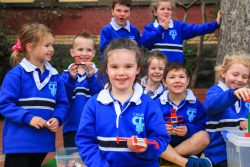 By Luke Voogt
Three primary schools just off Pako are gearing up for makeovers following the latest round of upgrades funding.
Ashby Primary School recently received $2.84 million to renovate its 165-year-old heritage building.
"It's one of the oldest school buildings – if not the oldest – in Geelong," school principal Meg Bone said.
"It's a really exciting time for us here. We can bring the school's building into the 21st century.
"The money would go to much needed interior renovations and new windows," Ms Bone said.
"At the moment they're not sealed so the wind and dirt gets in. It's bringing it back to its former glory, you could say, as it's pretty weathered at this time."
The school was also planning open spaces to "seamlessly" bring outdoor and indoor areas together.
"We want to bring the outside in," Ms Bone said. "We're all about sustainability here. The children have their own vegie gardens and chickens."
Newtown Primary received $2.01m to commence similar works on its 1870s building.
The school had made repairs to the building with grants in the tens of thousands before, principal Amanda Hay said.
"But this is a larger amount of money. We're very excited about that of course.
"The challenge is to make sure we spend the money as well as we can to improve the learning environment for our gorgeous students."
Ms Hay hoped to modernise the inside of the building and complete the works by September 2018.
"It was built at a time when teaching and learning happened in a particular way. It's hard to do 21st century learning in a 19th century building."
Chillwell Primary School received $2.41m to spend on upgrading its south wing.
The school had identified the building as most in need of an upgrade, principal Gavan Welsh said.
"It's not in a dilapidated state but it's not contemporary in terms of learning spaces – it doesn't look any different to the school I went to."
Mr Welsh hoped to create more playground space at the school with the money.
The various government agencies relocating to Geelong had increased the demand for primary education, he said.
"We'll have a look at a plan that will look at the whole site.
"The school community has put a lot of time and effort into maintaining the condition of the school already – this (funding) will improve it."
The funding is part of $21m which the State Government allocated to upgrade 15 schools in the Geelong region in this year's budget.