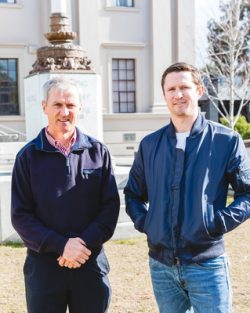 By Mandy Oakham
Pakington Street retailers have taken their first tentative steps towards forming a traders association.
Manager of Brown's Mensland, Cameron Brown, is one of the retailers working to build enthusiasm for some form of body to represent the interests of Pakington Street retailers.
"Safety is still a major concern for retailers in this area and it does makes sense that we should come together and work together as a group but exactly how we form our association and what actions it can take are not clear at this stage," Mr Brown said.
"It is still very early days but we are definitely looking at how we can move this idea forward.
"We certainly have had people come forward to indicate their interest in such a body and we have started work on building a database of names."
Retailers were urged to form an association by police at a crime forum held at Geelong West Town Hall last month.
That forum was addressed by the president of the Ocean Grove business association, Ty Simmons, who told retailers about a local crime prevention strategy which had reduced the rate of break-ins and burglaries from around three a week, in his area, to almost no crime at all.
Acting Police Superintendent Graham Banks told the forum that it was essential that traders were able to quickly communicate among themselves and also that a traders association would ensure that police could get messages out to retailers very quickly.
Other traders have called for the installation of CCTV cameras along Pakington Street and some individuals have said they would consider hiring private security to help them in their battle against rising crime rates in the area.