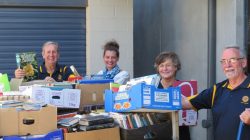 By Mandy Oakham
There is no better time to curl up under a warm blanket, with a warm cuppa and a red-hot read.
And the Rotary Club of Geelong West is once again offering book lovers the perfect opportunity to stock up on their winter reading with $1 books.
The club's Monster Book Fair will run from Friday 4 August to Sunday 6 August at the Geelong West Town Hall and there have never been more books to choose from.
"The book fair just continues to grow in popularity every year," says new club president David Dadds.
"We think that visitors to the fair are not only there to pick up a bargain, but they know that every dollar they spend is going to be used to benefit the community of Geelong in some way."
The fair helps to raise much-needed funds for a variety of programs chosen by the club including the important Barwon Health Volunteer Patient Transport program. The program provides transport for patients who are undertaking debilitating treatments such as chemotherapy, radiotherapy and dialysis.
"While the club is involved in contributing to many worthwhile local community support projects, such as Samaritan House, Operation Newstart, Christ Church meals program, and Geelong Kokoda Youth Program, we think that the one that seems to have the most resonance is the patient transport which is such a benefit for patients and their families," David says.
"And now that most of the clubs in the region contribute to providing this critical patient transport, it is a source of great pride for all of us to see the Rotary branded vehicles driving around town and we can see what a difference it is making."
The fair will have more than 30,000 books for sale. Many of these books have been supplied to the club by the Geelong Regional Library Corporation.
Rotary Club of Geelong West is grateful once again this year for the generous event support received from the City of Greater Geelong, Tuckers Funeral Service, Zippy Removals and Paul Bell Real Estate.