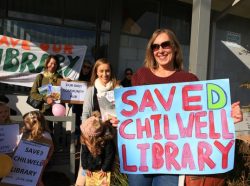 By Luke Voogt
Newtown campaigners have celebrated a win for "people power" after Geelong's administrators back-flipped on their decision to close one of Pako's nearby libraries.
The suburb's Lynne Dowling said "hundreds of hours of effort" and thousands of signatures saved Chilwell Library from the axe, until June 2018.
"It's been an enormous effort," she said on 28 June.
"Without objections from literally thousands of community members, Chilwell Library would now be closing at the end of this week.
"They've been forced to listen because of ordinary people spending a lot of time and energy opposing what they see as an undemocratic and unjust decision."
But Ms Dowling worried about the libraries' future and said many residents had lost confidence in City Hall's consultation processes.
"If they had consulted us in the first place before making the decision we wouldn't have had to spend hours pouring over their documents and plans."
Ms Dowling said the board of Geelong Regional Library Corporation lacked elected representation for the people living in the affected communities.
City Hall managers Kaz Paton and Brett Luxford currently serve on the board, along with councillors from Queenscliff, Golden Plains and Surf Coast Shire.
"All of which have retained their libraries despite two of (the municipalities) contributing significantly decreased contributions to their operating costs."
In Tuesday night's meeting administrator chair Kathy Alexander caved into community pressure and announced Chilwell, Highton and Barwon Heads libraries would remain open.
Dr Alexander admitted City Hall had failed to consult residents properly before the original decision.
The administrators made the decision based on Geelong Regional Library Corporation's recommendation to close the libraries.
Five reviews since 1999 found the libraries scored lowest in indicators like visits and loans per hour, according to the recommendation.
Dr Alexander said the libraries being in areas of relative affluence and not of highest need or growth also informed the decision.
"Newtown/Geelong West has a population of 20,000 people and two libraries, plus another three within three kilometres.
"Corio/Norlane, on the other hand, has a population of 24,000 people and only one library, with the closest neighbouring library seven kilometres away."
Elected councillors will review the libraries' fate in June 2018 Dr Alexander said.