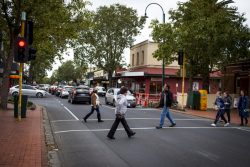 By Mandy Oakham
Geelong West traders have blasted a council proposal to spend $100,000 on a beautification project for the western end of Pakington Street.
Business owners contacted by the Voice on Pako regarding the possible cash splash by Geelong City Council on the project were unanimous in saying that any money should be directed towards improving security in the area.
The same business people expressed concern about rising crime rates in the area, especially break ins.
Owner of Geelong Fresh Foods Carmel Dawson said there was a huge concern locally about security generally, and the increase in break ins in the area specifically.
Last month the business was forced to offer a $500 reward for information on a man who brazenly walked into the store's staffroom, allegedly stealing wallets and personal items.
"Initially when you hear the council are thinking about spending some money in the area you think fantastic, but it's a bit tricky really as we have a big problem in the area and I really do think the money would be better spent on security issues, maybe more cameras, or something like that," Carmel said.
"There is also a major problem with graffiti in the area which puts people off if they are driving through Pakington Street.
"IGA at the back of us closed down recently and every day when I come in there is more graffiti."
Freestyle Clothing owner Andrea Witty is admanant that security is the biggest issue facing businesses in the area. Her store has been broken into four times this year losing $30,000 in stock and she has just spent $5000 putting iron bars on her shop's windows.
"Crime rates are just so high at the moment and this is the issue that is of the utmost importance to all business people," Andrea said.
"We just don't know what else we can do to protect our businesses so maybe the council could spend some money on asking the experts what we can do."
Staff at Trans Otway Travel in Pakington Street don't feel safe enough to open their doors on a Saturday.
Senior travel consultant Lauren Kelly said the decision was made after police chased a drug dealer through their premises and one of their staff was knocked to the floor.
"We are always hearing from other shops in the area about break ins and there is a general concern about safety," Lauren said.
"Security is always a good investment."
Staff at the Brazilian Butterfly told the Voice that security was also a big concern for their store as they have had three break ins in the past six months.
Co-owner Julie Woodruff said that from a business perspective she would like to see any money allocated from council being directed towards curbing spiralling crime rates in the area.
"I would really like to see something that helps ease the frustration and the anxiety of business owners in the area so that I didn't go to bed every night waiting for a call to say there had been another break in," Julie said.