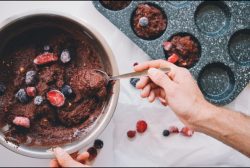 By Allira Potter
Hello Foodies,
How is this weather? I am completely and utterly over it! And its not even winter … eek!
I have just come back from a holiday a week ago and now I'm kind of wishing I was back there in the warmer weather.
Since I have come back I have managed to meal prep my fridge and freezer up so we have plenty of food on hand, I've managed to make soups and curries which can be frozen and I've also managed to make an abundance of healthy treats.
I have the biggest sweet tooth ever so I'm always on the hunt for sugar.
Thankfully I have found some great recipes and sugar alternatives to help me curb my 3pm cravings. In my freezer I have made the following that are sugar free – banana bread, Nutella balls (paleo), muffins and caramel protein balls (paleo).
Doesn't it all sound amazing and all so healthy.
I thought I would share with you a muffin recipe that I made that is so wholesome and filling you will be thinking its actually naughty!
So here is the recipe … and happy baking!
Mixed berry muffins
Ingredients
3 cups of almond meal.
1/2 cup cacao or cocoa powder.
1/4 cup coconut oil.
4 eggs.
2 teaspoons of gluten-free baking powder.
1 cup of your preferred sugar-free sweetener (pure maple syrup or rice malt syrup).
1 cup of mixed berries.
Method
Pre-heat your oven to 190 degrees and spray a muffin tray.
Add your eggs, sweetener, baking powder and melted coconut oil in the bowl and mix.
Then add in your cacao or cocoa powder and mix through.
Then add in the rest of your ingredients in to the bowl and mix.
Place your mix into your muffin trays and bake until firm, the amount you make will all be dependent on how big your muffin tray is.