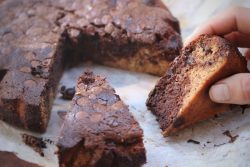 With Allira Potter
Hey foodies,
I cannot believe Easter is approaching, I feel like it was only yesterday I was talking about Christmas!
I love Easter, Easter is probably one my favourite holidays for two reasons.
First, chocolate … I feel like this is a given for everyone; and second, pyjamas. Why PJs you ask? I know you're probably laughing – but hear me out. Ever since I was little (and up until now) my grandparents have always bought me winter PJs.
This is why I love Easter, it's filled with the same tradition and so many funny memories.
Normally my Easters are filled with an endless supply of sugar and greasy food but this year it's all about being sugar free and learning how to treat myself rather than over-indulging on unnecessary food.
So this month I thought I'd share this amazing healthy chocolate banana cake that you can take to your family lunches on Easter Sunday.
It's gluten, dairy and refined sugar free and so easy to make.
Good luck making this and don't forget to tag us in your pictures via Instagram.
Choc Banana Cake
3 mashed bananas
3 cups almond meal
1 cup of your preferred sweetener (I use rice maple syrup)
1/4 cup melted coconut oil
Sprinkle of Himalayan salt
2-3 tablespoons of cacao or cocoa powder
4 eggs
2 teaspoons of gluten-free baking powder
Add all ingredients into a bowl and mix.
Heat your oven to 180 degrees and cook until firm (so the cake has a slight spring to it when you poke it).
This is also freezable! So portion the cake up into smaller pieces and place in the freezer – if you don't eat it all in one go like Nate and I nearly have.