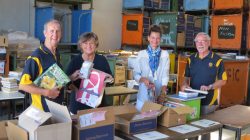 Emily Robinson
Geelong West's Rotary Club has raised about $12,000 from its annual book fair, according to Projects director Michael Clyne.
The Geelong Monster Book Fair featured over $30,000 books for sale, all a steal at just $1 each.
"We've been doing a book fair for the last seven years," Michael says.
"In the last two years, we've actually been doing two book fairs a year – one in February and another in August.
"We had a large supply of books we needed to start selling more of."
Now the Rotary Club's major fund-raising event, the Geelong Monster Book Fair originally started as a "one-off event".
"It started as a result of the tsunami in Asia – it was so successful that we've continued to do it every year since.
"'A lot of people still read hard copy books – there are people who still love having a book to hold.
"We had a queue waiting to get in on the Friday when we opened and a steady stream all weekend, covering all ages."
As well as selling second hand books, the Geelong Monster book fair also had "a small supply of brand new books" for sale.
All funds raised from the book fair will go towards supporting meaningful community projects.
"We've given out $30,000 per year to local organisations – the majority of which has mainly been raised from the book fair.
"We support the Barwon Health transportation vehicles – they drive around and take patients to and from dialysis and chemotherapy appointments at the Barwon Hospital.
"We also support Operation Newstart which works with secondary school children in the Geelong region."
Other beneficiaries include Geelong Kokoda Youth Program, Samaritan House Geelong, the Christ Church Community Meals Program and other Rotary clubs.
"We've already started collecting for the next book fair – we have a whole container of books we have to sort," Michael says.
The Rotary Club of Geelong West is grateful for the support of Geelong Regional Library Corporation, City of Greater Geelong, Tuckers Funeral Service, Zippy Removals and Paul Bell Real Estate.
The next Monster Book Fair will be held in August this year.