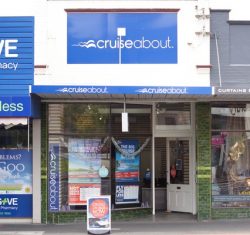 Cruiseabout's Christine Cottee shares her excitement leading up to Cruiseabout's busiest time of year.
If ever there was a time to be grateful for what you do, it's that time for us now at Cruiseabout!
The busiest time of the year is upon us, and we have our lovely clients travelling all over the world, in all manner of forms.
There is a lot to be said for the joy in being able to live vicariously through all of the amazing experiences we are so lucky to be able to help realise.
We are so fortunate to be able to work with a product that truly can be all things, to all people.
Are you someone who enjoys an intrepid style of travel; learning and broadening your horizons in the far flung reaches of our world?
Are you looking to travel as a multi-generational group to celebrate a special occasion? Are you a young family looking for a holiday where you can enjoy both family time, and adult time? Are you a solo traveller? Are you retired and looking to see the world and meet like-minded people? Are you a group of friends looking for a quick getaway? Are you young and adventurous and wanting to party in the Mediterranean?
There is no niche that cruising doesn't cover (unless trekking deserts overland is your kind of thing – then we might have to offer you an alternative to a ship!).
Cruising is easy; it is fantastic value with the vast majority of your travel expenses included in the cost; it is a product you can tailor specifically to your likes and needs, and above all, it is the perfect way to explore this beautiful planet of ours.
Where else can you take breakfast on your balcony while reading your favourite book and watching the world go by, head on shore to discover the latest destination you've arrived at, take in a lecture with an expert academic, sip cocktails by the pool, try out an extreme sport, savour ever-changing beautiful meals from a range of venues, see a Broadway style show, indulge in a spa package or dance the night away in your choice of ballroom, nightclub or piano bar, all while only having to unpack once?
Nowhere but a ship, of course!