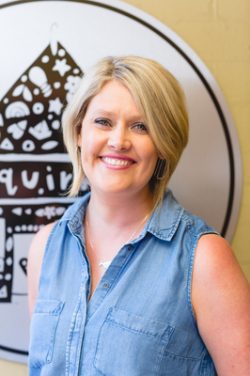 Q&A on pako
A moment with business owner Kate McLaren from Quirk Collective…
Where did Quirk all begin?
Back in 2012 we opened down the road, opposite the French Bakery – we really wanted to be able to showcase items that were hard to find, handmade, or independently designed. Our space also housed a photographic gallery space and my business partner back then ran photography classes and fine art printing – it was a great combo. Then earlier this year the space in Pakington Village popped up and I decided to move the retail section of the business down there.
How would you describe Quirk?
Everything in store has a story, we are really passionate about supporting little makers, but without being kitschy and overly 'crafty'. There are so many talented makers out there and we love being able to be in a space with such beautiful things. We have something for everyone, from socks that donate part of their profit to helping to eradicate AIDS, to amazing sterling silver and solid gold handmade jewellery crafted here in Geelong. Although our space is a lot cosier than our old location, we have still managed to hang some amazing pieces of art that are also for sale.
Do you sell products from local Geelong makers?
A lot of our items are made here in Geelong – Ernest and Joe is a local jewellery brand that is super popular, Butcher and Baker candles, Lauren Barton resin art, Moppysgirl crocheted bunnies, Anak Anak kids harem pants, Frankie and Ray and Harp Handmade clothing – the list is endless.
What are the most popular products?
The pieces that are flying out the door at the moment are the one off, totally amazing Tiff Manuell handpainted clutches, Sydney designers The Horse watches and wallets, Oktoberdee's new range of leather bags and of course, Melbourne designed Elk accessories and clothing.
How about your 'quirkiest' product?
Shuh Lee's felt art is pretty special, or we also have these amazing Code Love bracelets that have morse code messages threaded into the beadwork.
What do you love about being on Pako?
Strip shopping is so much more enjoyable that being in a mall like environment – there is so much going on on Pako, amazing coffee and I love our neighbours in Pakington Village, every day is fun.
What do you love about art and design, and are you creative yourself?
Art is such a special form of communication and is often really therapeutic for both maker and appreciator. I'm definitely more of an appreciator these days – I used to screenprint and make my own handbags, but I haven't touched a sewing machine in way too long.
If you're not at the shop, what are you usually doing?
We have a very active, cheeky little boy at home, so if I'm not here I'm trying to keep up with him.
What is a great gift idea for January?
You can't go past one of the new D Series watches that The Horse have just released – a little bit luxe at $269, but totally worth it.
Finally, what makes Quirk different to other shops on Pako?
The nature of our space means that we work hard to ensure that our items and a bit special and you know that you'll be supporting little makers when you shop.