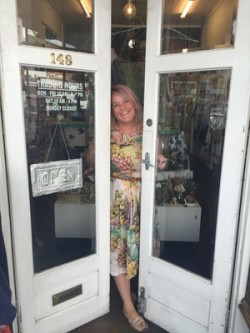 THE store Eclectica is soon to celebrate its sixth birthday in its quaint little shop front on Pakington Street. The store is the brainchild of Amanda Jane who lives and breathes all things colour, design and textiles.
With business breeding in her blood, Eclectica is Amanda Jane's second store. The first store was a specialty jewellery shop which traded for over eight years selling custom-made jewellery designed by herself.
Amanda is the second generation to trade from her Pakington Street block. Her great-great-grandfather Archer Witchurch owned a Singer sewing machine shop in the 1930s just four doors away from where Eclectica stands.
"It's quite surreal that a family member walked the same path as I do now on a daily basis," Amanda said.
Eclectica's shop front has the original brass trimmed windows and black tiled facade. It was built in the early 1920s to be a fish and chip shop and to house the owner and his family upstairs.
This year, Eclectica is set for expansion. The shop next door will host a larger collection of clothing and things for the home, making 148 Pakington Street an even greater shopping experience.